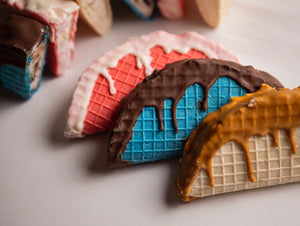 *ONLY AVAILABLE IN THE LAS VEGAS AND HENDERSON AREA*
We will contact you via email or text to confirm delivery time. Contact us to specify requested delivery times!
E-mail: contact@happyendingchocolate.com
Call/Text (702) 281-9626
Instagram DM: @happyendingchocolate
10 hand-made ice cream tacos delivered to your doorstep. Mix and match your favorite flavors! Make your own 10-pack!
Choose from our rotation of hand-crafted flavors!